The Muddy Rudder's Humble Roots
In 2004 Jimmer purchased a property on the corner of SE 7th and Tacoma.
And as It Appears Today
In 2007 Jimmer opened Muddy Rudder Public House.
The Patio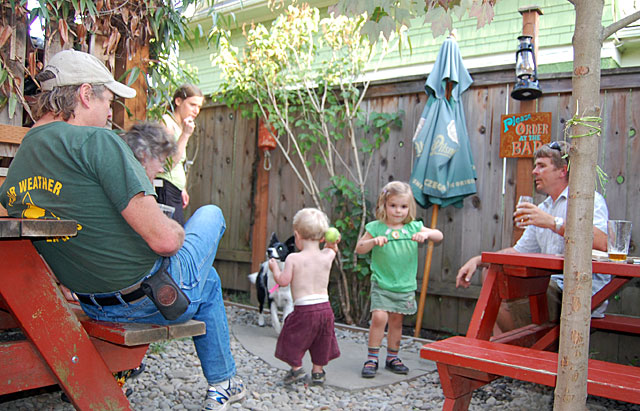 ---
In Memoriam
James 'Jimmer' Robert Sheehan Jr. of Portland, Oregon died June 26th, 2022. Born January 25th, 1965 in Hartford Connecticut, he grew up in Holland, Massachusetts, the youngest of three children. He spent his youth waterskiing, rope swinging, fishing and ice skating on Lake Hamilton. He graduated from Tantsaqua Regional High School in Sturbridge MA, where he played basketball and football.
In 1987 Jimmer came out to the west coast for his sister's wedding and never left. Not long after Jimmer moved to Portland he headed to Alaska. He was hired on by a large fish processing company with headquarters in Bellingham WA. The position wasn't glamorous but it got his foot in the door. He worked his way into the ship's hold working as forklift operator in the deep freezer. The job allowed him to work long hours at overtime pay plus extra for working at or below zero temperatures. He worked as many hours as the company allowed, saving his money. He moved on to being a ship crane operator, rigger and eventually a ship's engineer. His metal, mechanics, and woodworking ability took him to working the boat yard in Dutch Harbor for the same company, keeping the fishing fleet repaired and shuttling crew and supplies to ships at anchor. He would go on to pilot boats back and forth to Bellingham, and later worked ocean tug boats as far south as San Francisco and LA. He worked in Alaska for about fourteen years. Dreams of starting a pub began early in those years.
As an adult he settled in the Sellwood neighborhood of Portland, Oregon. A lifelong learner of trades and skills, Jimmer could build, wire, plumb, fix and refurbish just about anything. In 2004 he purchased a property on the corner of SE 7th and Tacoma. This is where he would design, build and open the Muddy Rudder Public House in 2007, with the help of a close group of friends and mentors. The Muddy Rudder quickly became a beloved neighborhood spot. It showcased Jimmer's love of all things nautical and maritime, music and musicians, his keen eye for beautiful handmade objects and antiques, and his passion for vintage motorcycles. The cabinetry, custom woodwork, even the wooden pizza stands, were all carefully and thoughtfully made by Jimmer. The Muddy Rudder, like its builder and owner, is one of a kind.
When he was not overseeing the Pub, Jimmer spent as much time as possible in the mountains or on the river. He loved to ski, fish, boat, and generally muck about. In the time that he resided in Sellwood he owned and lived in over seven houses. Jimmer restored and or remodeled each one by hand with an eye for architectural integrity and craftsmanship. He finally settled on a double lot in Sellwood in 2015 with his wife Andrea and sons Sam and Everett. Here too, Jimmer undertook project after project with skill and enthusiasm.
Jimmer was a lover of music and a good story; always in the thick of any gathering. Ready with a toast or funny saying, Jimmer welcomed many into his circle of friends. He loved being a father and shared his knowledge and passions through numerous building and school projects, engine rebuilds, hours on the river, and the occasional long winded explanation. He carried on his family tradition of elaborate, animal inspired birthday cakes. Jimmer was a doer and a maker; he tried to pass that practice on to his sons. Jimmer and Andrea would have been married 12 years in August. They shared many adventures together. Life with Jimmer was never dull.
Jimmer is survived by his wife Andrea Platt Sheehan and two sons Sam (19) and Everett (9) Sheehan, his mother Nancy Sheehan Carling of Venice FL, sisters Donna Sheehan Slocum of Ashburnham MA and Lauren Sheehan of Portland OR. Jimmer left behind extensive family and friends too numerous to count, let alone name. Their love and support has been immense and truly appreciated.